Conference 2012 - UK
TRANSITION NETWORK
UK CONFERENCE 2012
---
The conference has ended - view updates and blogs from the conference here »
This year we are back in London, hosted once more by the wonderful Battersea Arts Centre (BAC) (where we were in 2009), and the conference aims to provide a weekend of events and workshops that explore the theme of "Building Resilience in Extraordinary Times".
We have an ambitious programme for this year's event, with 5 distinct elements, which can be attended as stand-alone events or in combination:
Main Transition Conference
The Main Transition Conference will explore the theme of "Building Resilience in Extraordinary Times". It'll give you the chance to connect with people from all over the UK – and if other years are anything to go by, from all over the world – who have taken the Transition approach into their hearts, lives and communities.
If you are new to Transition, this will be an opportunity to make new friends and plunge into a rich pool of ideas, inspiration and practical learning that will help you do the things you want to do back at a home base. If you have been round the Transition block a few times already, this is the place to refresh your energy, catch up with old friends and immerse yourself in what's new in Transition.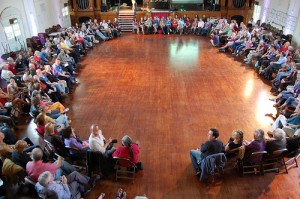 Our theme this year will be explored through a wide variety of activities and processes including programmed workshops, an Open Space afternoon, walks and visits, and a great Saturday evening of entertainment, including an open mic slot. It will draw in elements of the REconomy and Young Transition conferences happening the previous day.
The full programme is now available.
Skip to Main Conference costs, venue and accommodation information sections on this page
---
What's a Transition Network conference like?
If you haven't been to a Transition conference yet, or you can't remember last year's, have a read of the 2011 conference blog which covered much of the action, or check out the totally impressive 2011 conference write up page.
---
Tell me more about the REconomy, Youth, Training and National Hubs events
The REconomy Project Day at the Transition Conference will explore the conference theme of "Building Resilience in Extraordinary Times" through an economic and entrepreneurial lens. And you as the attendees will help create the agenda.
This is a day where you can both learn and shape Transition economic thinking. Through mapping, scaling and connecting some disparate innovations and trailblazer enterprises, we'll make an audacious attempt to bring to life an enthralling vision of a truly credible alternative to our current economic system. View the programme for the day here.
The day is for doers and will be a mix of "how to" sessions on areas such as setting up anything from energy and food companies to incubators and local currencies. There will be some tool kit building workshops, as well as idea-sharing and a sprinkling of inspirational stories from pioneers and thinkers in new economics.
The REconomy Project itself has been a collaboration of hundreds of Transitioners and builds on the growing body of work and momentum around 3 key areas - setting up social enterprises, engaging existing businesses and leading the economic transition in your community. The official REconomy Project launch will be at the end of the Friday and we invite you to join us in celebrating (in the bar!).
Check out the website, particularly the "about" and the "what's a Transition social enterprise" pages, and like us on facebook to be kept up to date. Ticket price includes a sandwich lunch and refreshments.
---
The Youth event is entitled "Which Future do We Want?" and will be a collaborative exploration into how young people can find or create meaningful livelihoods in a rapidly changing world. We will inspire each other with open space sessions, world cafe conversations, mini workshops and time for just meeting and talking. Mark Boyle (author of The Moneyless Man), Rob Hopkins (co-founder of Transition) will be present... and others still to come in an exploration of the whole economic spectrum from Gift Culture, through social enterprise to big business (more anon).
Young people from 16 upwards can participate in this symposium, and we're targeting school/college/university-leaving age ranges. We'll be inviting around 20 elders to take a holding role, staying firmly in the background.
Additionally, we will be launching our new one-year learning journey for over-20s called "One Year in Transition" as well as catalysing a "Youth in Transition" network for those who want to stay in touch with like-minded people as they navigate the uncertain times ahead.
---

The 2-day Transition THRIVE course - Thursday 13th (9.30am to 5.30pm) and Friday 14th September (9.30am to 5.00pm) - will run on the two days directly before the conference.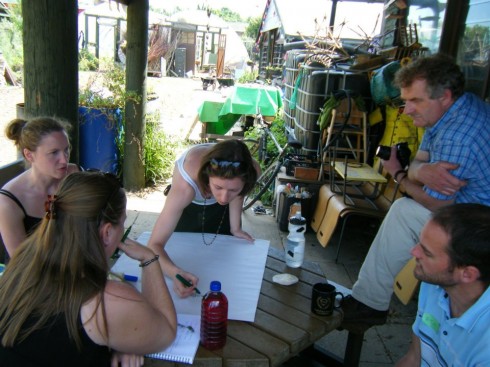 We've designed this particular instance of the course to be flexibly integrated with the other conference events so that you can choose the learning experience that works best for you. This advanced training course will help you to sustain momentum both in your Transition Initiative and also at a personal level. It's packed with ideas and inspiration to help you move your Transition Initiative to the next level. Course details are here and here's some feedback.
At the conference, the THRIVE course intertwines with the REconomy event giving the following choice for course participants:
day 1: Transition THRIVE
day 2:

either

second day of THRIVE course,

or

REconomy day. There will be an integration session on Sunday of the conference to help you to integrate learning from the course and the conference to help you to build an action plan to take you forward.
---

An international gathering of National Transition Hubs will circle up for two days of problem solving, mutual support, visioning and planning to help ensure that there's a solid, proactive, motivated and well-skilled group helping support transition wherever it appears around the world. This event is being co-managed by Filipa Pimentel, National Hubs coordinator.
---
Links to information sections on this page -
Main Transition conference - dates and times
Registration opens on Friday 14th Sept at 6.00pm
Programme runs from Friday 14th September (6.00pm) to Sunday 16th September (4.30pm)

---
Conference costs
A pass for the main conference will cost £100 including lunches for Saturday and Sunday.
We encourage people to come for the whole event, but for those that just can't make the whole weekend, we'll be making a small number of day tickets available.
Booking early will allow you to take advantage of cheaper transport options.
There are combination tickets for people attending multiple elements (e.g. THRIVE Training plus Main Conference, Youth Symposium + Main Conference, REconomy + Main Conference). See main booking page for costs and details.
Concessions
Concessions Fund
Can you afford to help someone pay for a ticket? Please donate what you can afford to allow us to help someone with the price of their ticket. If a good number of us donated just £10 or more or whatever we can, additional people will be able to attend at a concession rate. If you'd like to donate to the concession fund, here are the options:
Paypal (best option): send payment to jo.coish@transitionnetwork.org. Please add "Concession fund to the subject line or text of the accompanying email that Paypal automatically sends out when you hit the "send funds" button.
Cheques: payable to Transition Network Ltd
Bank transfer: The Co-operative Bank, account: Transition Network Ltd, sort code: 089299, account number: 65253737, IBAN: GB55 CPBK 0892 9965 2537 37, BIC: CPBK GB22.
---
Booking tickets
The only way to reserve a place is to pay for it. See below for payment details - you can pay either online or with a cheque (UK only). Please do not call us up for a reservation - when we're full, we'll update this page and make it clear.
Buy your conference ticket on our booking page via Paypal, Visa, AmEx, Mastercard, Solo or Switch.
When Eventbrite accepts your payment, your place at the conference is secured – you will receive a confirmation e-mail.
To purchase a ticket by cheque (UK only) please make out your cheque to: "Transition Network", and send it along with your contact details (name, address and phone number) and the number of tickets you want to:
Transition Conference 2012
Transition Network
43 Fore Street
Totnes
TQ9 5HN
Your place will only be reserved once we have received your cheque. We will notify you via e-mail or phone.
Buffet lunches for Saturday and Sunday are included in the price. Please let us know of dietary restrictions when booking.
Evening meals can be purchased at the venue or in the local area.
Cancellations received by end of day August 10th will be reimbursed 100% minus Eventbrite & Paypal booking fees.
Cancellations received between August 11th and end of day August 31st will be reimbursed 50% minus Eventbrite & Paypal booking fees.
Cancellations received from August 31st will not be reimbursed (please contact us if you have exceptional circumstances).
---
Venue and conference information
This year we have capacity for around 350 participants, which has felt like a comfortable number at previous conferences.
BAC have worked wonders to make this old Victoria building accessible - here are the details.
We have places available for children (0-16 year olds) who are attending with a parent or guardian. Please make sure that you book places for your children. Sadly we cannot afford to provide creche facilities, so you will need to keep your child with you at all times and be responsible for their welfare.
There will be no specific children's and young people's programme running during the weekend.
Children under 5 - The venue does not have any provision for baby foods so please bring what you need.
---
Getting there
BAC is in South West London, 3.5 miles South West from the centre of the capital. The TFL Journey Planner is highly recommended.
Battersea Arts Centre
Lavender Hill
Battersea
London
SW11 5TN
By train (recommended)
BAC is a 10 minute overland rail journey from either Waterloo or Victoria station. Take the train to Clapham Junction, walk through the shopping centre exit and turn left out of the station. BAC is a 5 - 10 minute walk straight up Lavender Hill. Walk up Lavender Hill past ASDA, the Post Office and Magistrate Courts and cross Latchmere Road. BAC is at the top on the left hand side.
By underground (tube stations are NOT close, so not really recommended)
The closest Underground stations to BAC are Clapham Common on the Northern line or Stockwell on the Victoria line. Either of these stations is approximately a 15 minute bus journey away. The 345 bus departs from outside both stations and travels along Lavender Hill stopping outside BAC.
By bus
345, 77, 87, 156 and G1 stop on Lavender Hill outside BAC. The night buses N77 and N345 also stop outside BAC. 35, 37, 39, 49, 170, 219, 239, 295, 319, 337, 344, and C3 buses either terminate at, or go through Clapham Junction. BAC is then a 5/10 minute walk up Lavender Hill on the left hand side. The night buses N19, N31, N35 and N37 also stop near Clapham Junction.
See all buses from Clapham Junction.
If you're bringing your bike
Find your cycle route using TFL Journey Planner. There are designated bike stands to lock your bike to directly outside BAC. Remember this is a city, so lock your bike up carefully, securing wheels and frame to the stand.
By car
BAC is on Lavender Hill SW11 5TN. Plan your route using AA Route Planner.
We've set up a car-share forum.
Parking facilities are extremely limited. BAC has a private road (Town Hall Road) on the right hand side of the building and it's exclusively limited to disabled visitors - you can get a disabled parking permit from the BAC Box Office. Other side roads around BAC have residential and restricted parking between the hours of 8am and 6.30pm, Monday to Saturday.
By plane
While we would love to have Transitioners from all over the globe at the conference, we are also aware of the carbon footprint aspect of travel. Please read this blog piece from Rob's blog and consider it before making a decision about flying to the conference. The nearest airport is Gatwick with direct trains to Clapham Junction. Other airports are London City airport and Heathrow.
---
Accommodation options
If you don't have a friend in London who you can stay with, here are some options for accommodation. We are unable to check these all out in advance, so please read the information which is available about them when making your choice.
Staying with a London Transitioner
We will be making a strong call out to London Transitioners asking them to offer accommodation to conference participants. If you're looking for someone to stay with, you'll need to complete the form on Seeking Accommodation page. If you're able to provide a bed or sofa or two to visiting Transitioners, please complete the form on the Offering Accommodation page - bless your kind heart. (This process replaces the forum aproach that is proving too hit and miss).
We'll be trawling those offers/requests and making matches. We're hoping London Transitioners will step up and support visiting Transitioners.
Commercial accommodation closest to venue
Nearest YHAs (Youth Hostel Association - not restricted to Youth!)
(Train journey from Clapham Junction)
Other hostels near Victoria Station or Waterloo Station
Other options

At http://www.hostelworld.com pick London and then under "Districts" chose Victoria, Waterloo and Shepherd's Bush (all direct stations from Clapham Common)
---
Other
Wifi is available in BAC. The passcode will be available at reception.
We will be filming during the conference. If you do not wish to be filmed please politely notify the filmer.
Press protocol
Members of the press are very welcome to participate in or observe all and any aspect of the conference, as long as they sign up (by email or at the conference) to the following protocol:
All press must register through the normal channels, paying full price. Email the Conference team for your press pass
All press must state which publication (or freelance) they represent on their signup form
All press must make themselves known to a Transition Network person on arrival
Transition Network will provide press with an identifiable badge with name and publication
Press must wear the badge at all times
Any press person engaging a conference participant in conversation must explicitly convey whether the conversation is on the record or off the record
All participants will be told that if they feel uncomfortable talking to the press that it is their responsibility to express that (politely) before the conversations start
Dress code for conference - if you're in a suit, you'll be the only one :¬)
Online social reporting from the event
We have set specific budget aside to enable the recording of as much of the conference as possible with roving reporters using film and audio and written reportage. We will upload this material as quickly as possible to our conference blog and use youtube, twitter, facebook and other media so that people who can't come to the conference can keep up to speed on it as far as possible.
We do not intend to use video conferencing or other synchronous media during the event. In our experience, it is rarely worth the effort in a conference environment, and our main focus is on the event.
If you have any questions please email the Conference team at transitionconference@gmail.com.

We look forward to seeing you at the conference!